Solutions Swim School is dedicated to providing safe and enjoyable swimming lessons in Swindon for children and adults alike, helping to increase their confidence and understanding in and around the water. We create small classes and are consistently committed to quality teaching that is second to none.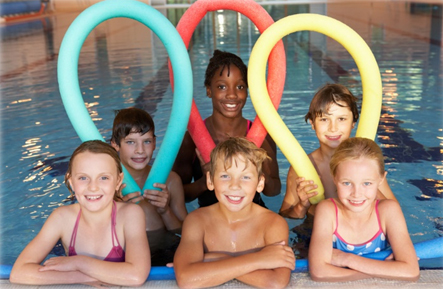 You may have seen the publicity drawing attention to the fact that less than fifty percent of children leaving Junior School can swim one length of a twenty five metre pool!
Despite being part of the national curriculum, our children continue to be at risk of not being safe or confident in and around water; not to mention the fun they miss out on as a swimmer. Swimming provision at school varies a great deal ranging from large understaffed classes to well-planned swimming lessons, but even those schools that take swimming seriously, are only able to commit to 12 weeks swimming lessons whilst at Junior School. We do of course understand the pressure on schools to deliver the highest standard of basic education they can, but swimming is a life skill we all need.
Solutions Swim School prides itself on results, providing fun, affordable, safe swimming lessons in Swindon for children of all ages. As a Swim School we also understand that there are many adults who may not have had the opportunity to learn this important life skill. It could be that now they have children of their own these adults also wish to have swimming lessons so the whole family can swim together. Everyone is welcome with the assurance that we want you to swim.
We also have opportunities for former, existing and potential club swimmers. If you are a competitive swimmer, have previously been or wish to become one and you would like to join a thriving sociable club then Solutions Swim School would like to invite you to look at Wroughton Amateur Swimming Club (WASC). Based in Wroughton the club currently has around 110 swimmers of varying standards and prides itself on being competitive but friendly; aiming to give every swimmer the chance to compete at their own level.
So whether you are a parent looking for swimming lessons for your children to learn, an adult who knows it's never too late, or a competitive swimmer then we would love to hear from you to discuss your needs and what Solutions Swim School can do for you.
To get in touch please see the contact us page.
News
CORONAVIRUS
Based on the best advice from HM Govt and Swim England, Ridgeway School have closed the pool with immediate effect. Consequently our lesson programme is suspended for the forseeable future - until the Coronavirus issue is under control.

This is a decision we endorse as we are all concerned about the spread of the virus and keeping everyone safe and well.

We will be in contact with all of our customers just as soon as we know any further news